EDUCATION MANAGEMENT – VOLUME IV CHAPTER 2
A HEAD OF TIME
ACTIONABLE STEPS AND EXPERIENTIAL MODULES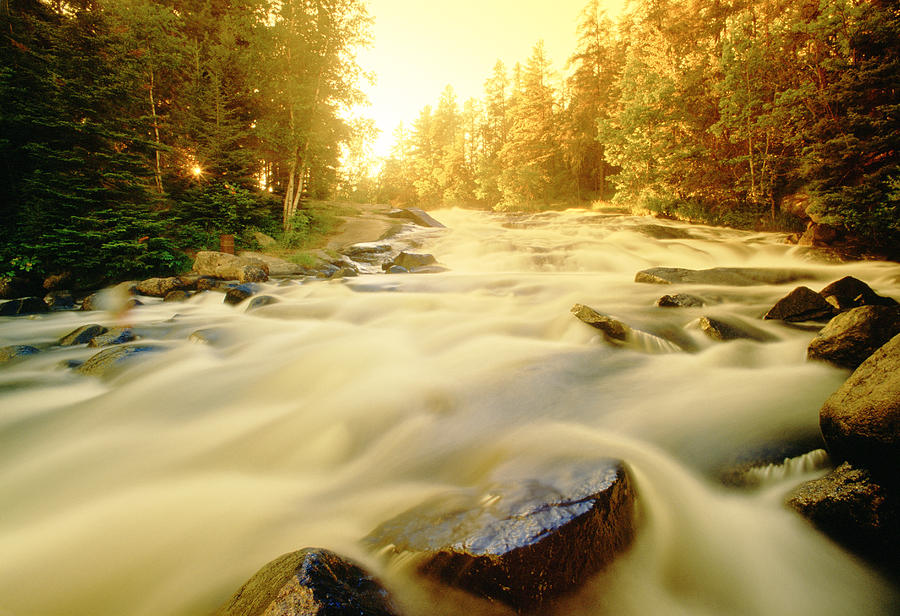 A leader leads ahead – ahead of others and ahead of himself.  If you are running at the same speed, the runner behind, will run ahead of you.  You should be a running river gathering different things on the way.  Stagnation leads to stink.
                As the Head of an Educational institution you must be constantly going ahead. Innovation shall be your signature tune.  Activities, sports, dance, drama and music festivals, and exhibitions – all these don't count if they simply add up the number.  How each one has contributed to the personality development of each student – that is the measure of your school.
So how will you keep ahead – be on the move intellectually?
Patrick M Lencioni helps you get started on the move with his four "Actionable steps" or disciplines viz.,
~ Build a leadership team
~  Create organizational clarity
~ Communicate that clarity
~  Reinforce it through human systems
Your transparency in governance, executive actions, financial management, human relationships,   communication and decision making will help you move ahead.
Base your Education Management on "Five Experiential Modules", as suggested by Bernd H Schmitt such as
a) Sense – Appeal to the parent's senses through sight, sound, touch, taste and smell. Use music, colour and sound effects in the carnival you hold.
Sight – Programmes of the school plans for future
Sound, Sight – Activities of students
Touch, Sight, Sound – Projects done by pupils
Smell, Taste – Preparations made by pupils
b) Feel – The feelings and emotions of parents, positive emotion of joy. Negative emotions of anger. These occur during contact and interaction and exposure.  Train your staff for proper and pleasant interaction – like a hotel or company receptionist experiences can have a mild or strong intensity.
A parent requesting for encouragement to his child – mild.
A parent handed over a transfer certificate because of his son's misbehavior – strong.

Feel
c) Think – This appeals to the intellect. You help a parent to arrive at a decision about his son's further studies after +2 – convergent thinking – help focus finally on one area.
Help a student become aware of the several possibilities for future development – divergent thinking helps parents and students in creative collaborative thinking.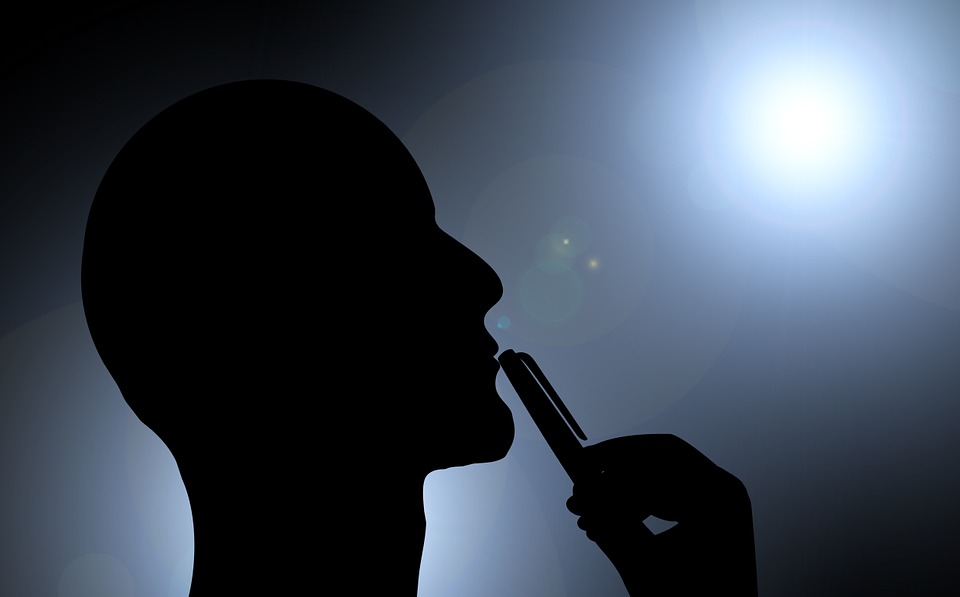 Think
d) Act – Physical experiences at the time of admission, activities, functions, announcement of results, payment of fees, request for leave.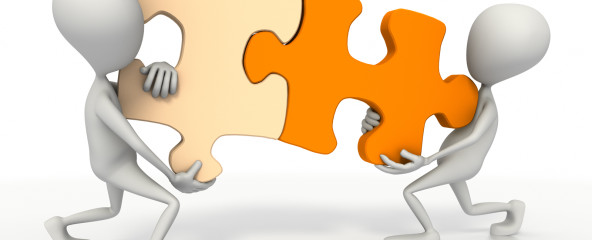 e) Relate – Goes beyond one's individual and personal feelings. How a parent feels at every touch point.  Parents meeting, alumni meeting, attending functions in staff's homes, guest lectures. These experiences deal with social situations, social rules, social identity influenced by self concept.  Create the right reference appeal.
In your efforts to move ahead, you have to be aware of value (talent) migration, in the early days when you develop a school.
BE A PERSON OF VALUE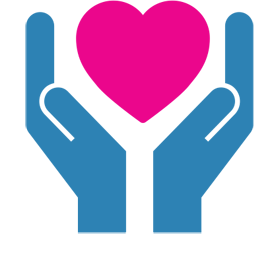 There will be limited competition.  Your growth will be high and you may be hiring talented staff.
After a few years your growth may reach a plateau.  The school has earned a name and you are able to withstand competition as your base is sound because of the talent (value) pool – school attracts talent.
After sometime, may be due to a change of management of the Head or a faculty, of value added offerings, competition also increases.  Great demand for talented staff, allurement of attractive pay scales and perks, withdrawal of children, attrition of staff and low new enrolment – there is an exodus of talent – value migration.
So you have to be aware of 3 stages Value inflow, Value stability and Value outflow. Be observant of the last and take steps to arrest it.
To move ahead you have to have seven basic fundamentals viz.,
Maintain self respect
Work with a sense of immediacy
Be accounts literate
Conduct meetings in a crisp manner
Share news with the staff
Never forget to say thanks
These 6 traits have been of immense help to the author throughout his career.
                Think like a wise person.  But your communication should be in a language easily understandable by the listener.  The author's tenure as Dy. Director made him address a variety of groups.  From the villagers, village students, village school teachers, Panchayat Presidents, Panchayat Union Chairmen and Commissioners,  Extension  officers – Education, Agriculture, Health Scientists of the Agricultural University, Principals and Professors of Arts & Science Colleges, I.A.S. Probationers, Deputy Secretaries (Development).  This helped him to adjust his thought delivery to their level.

Think wise
SUCCESS MUST HAPPEN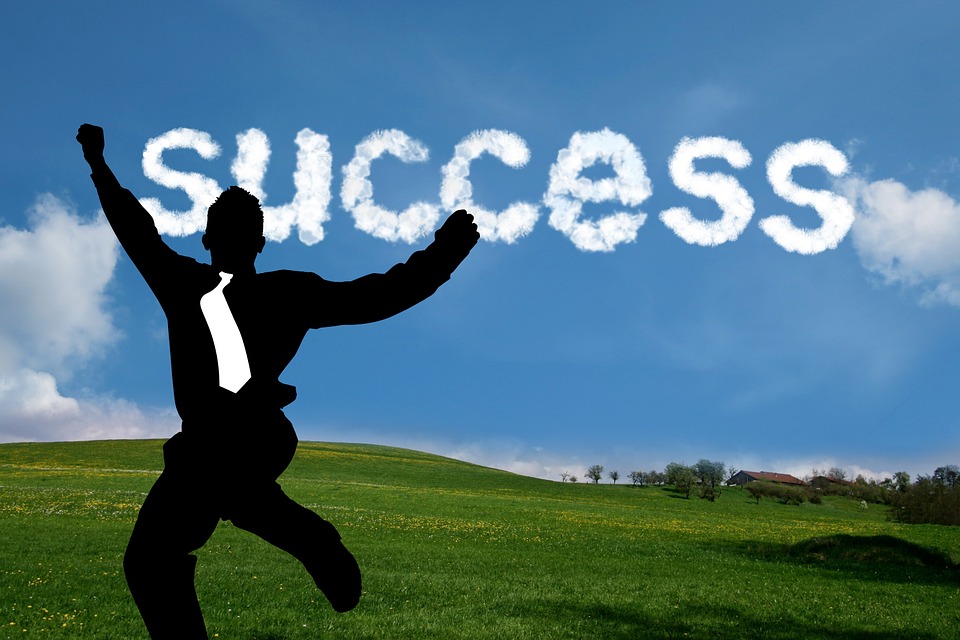 The author always used to tell the Principals not to try to become a person of success but a person of value and achieve distinction by availing the opportunity at hand and not wait for it. He also advised them to do at least a few things right instead of doing many things wrong and not make easy things difficult for the staff, as some Principals are peculiarly capable of.  He used to caution them to remember that while it takes many many years to build a reputation, just five minutes are enough to ruin it and so act always with this thought in mind. His favorite slogan borrowed from Warren Buffet was:-
"Price is what you pay – Value is what you get"
Being ahead of time means being creative and motivating others to become creative. – "Crossing boundaries of knowledge, visualizing results, applying analogies and embracing failure".  As observed by Evan I Schwartz.  In his book "Juice – The creative fuel that drives world class inventors"(Harvard Business School Press).  He helps you with a list of classic inventors:-
Woody Noaris – Hypersonic Sound
Lee Hood – Genomics
Dean Kamen – Mechanical
Jay Walker – Business Systems Inventor
James Mclurkin – Biomimicry Trail Blazer
When you want to move ahead you have to initiate change.  Generally people do not resist change.  They only resist being changed.  How to make the pain pleasant?  That is the million dollar question.  The author has vivid memories of how teachers "Reacted" when the following new ideas were introduced.
Social studies
Citizenship Training
Multiple choice questions
Functional English
New mathematics
Science experiments for lower classes
CCE – Continuous comprehensive evaluation
Minimum programme
Activity based system of education
Grading system
Accountability – performance based rewards
Teacher Recruitment through test.
To ease the pain of transition Eric Abrahamson unveils a new method of bringing in change – called "Creative recombination" in his book "Change without pain" (HBS press).  He groups the traits to be changed into 3 categories:-
Easier to adjust
Harder to adjust
Largely fixed
To move ahead take the advice of the Austrian psychiatrist Victor Frankl and avoid becoming a prisoner of your thoughts.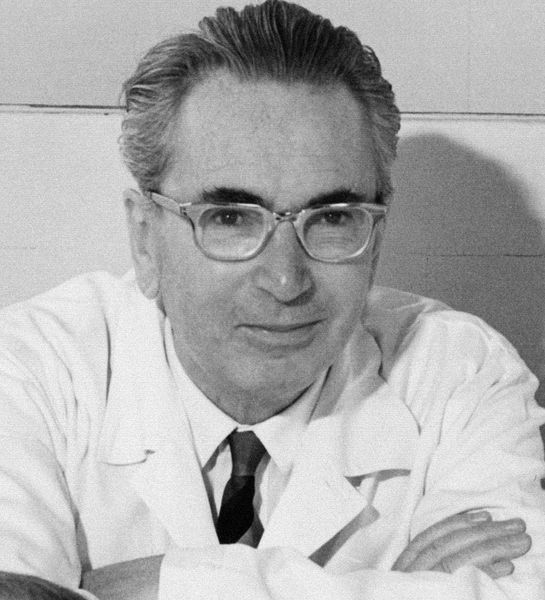 He advises you that success can't be pursued; but it must ensue and it can be only the by-product of your dedication and devotion to a cause greater than yourself or surrender to a greater person.  "Like happiness, success must happen".  He wants you not to be obsessed with "My Personality" My Feelings" "My Behavior""My Reactions" "My Responses".
How to love your job? He gives you a down-to earth practical tip:-
"Like it or not.  If we are aware that we're in a lousy job, but we need to pay the rent, the job has meaning"!
THE CHIEF SPEAKS
During the service, the author used to share his thoughts on management at the end of every circular to the staff as Dy. Director or Principal.  Aimed at explaining, espousing, encouraging, exploring, enlightening, enriching, elevating, ennobling, appreciating.  All the while emphasizing that SEOTC or K.V.S. are not 5 and 3 letters or words signifying an organization, but they represent a way of feeling, a way of thinking, a way of action, a way of living, a repository of knowledge, a vault of values and a spring board for service.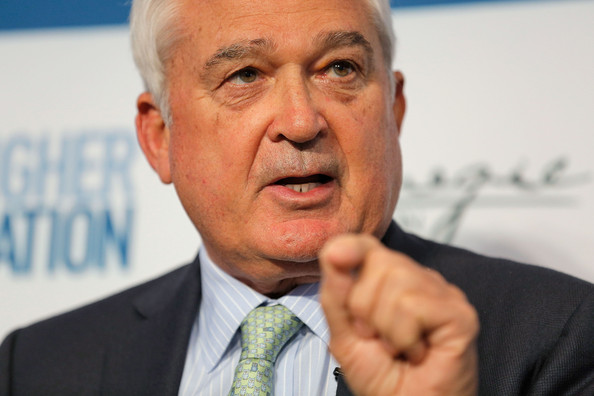 Twenty years after retirement (1992) the author was delighted to read the fascinating book "Who says Elephants can't dance?" by Louis Gerstner, Chairman & CEO of IBM – how he turned it round.  There in pages 278-338.  He has reproduced 17 emails (a sample) sent to his colleagues on various matters.  In every letter a few lines reveal how a great CEO would boost up the spirit and morale of his staff.  The author wishes to share those lines which he enjoyed.
a) On taking over – July 27, 1993:-
"From what I learned, there is a lot more right than wrong with this company and I am convinced our weaknesses can be overcome by our strengths.
Our people are skilled and committed.  We have a lot to be proud of and much to be excited about.  Our future is bright because of our strengths.  But we need to get the problems behind us and start focusing on growing again.
You and I want to make the IBM the most successful company in the world.  It was once and I am convinced it will be again.
I thank you very much for all you've done in the past and I ask for your patience and continued support as we move forward in the months ahead."
b) Counting down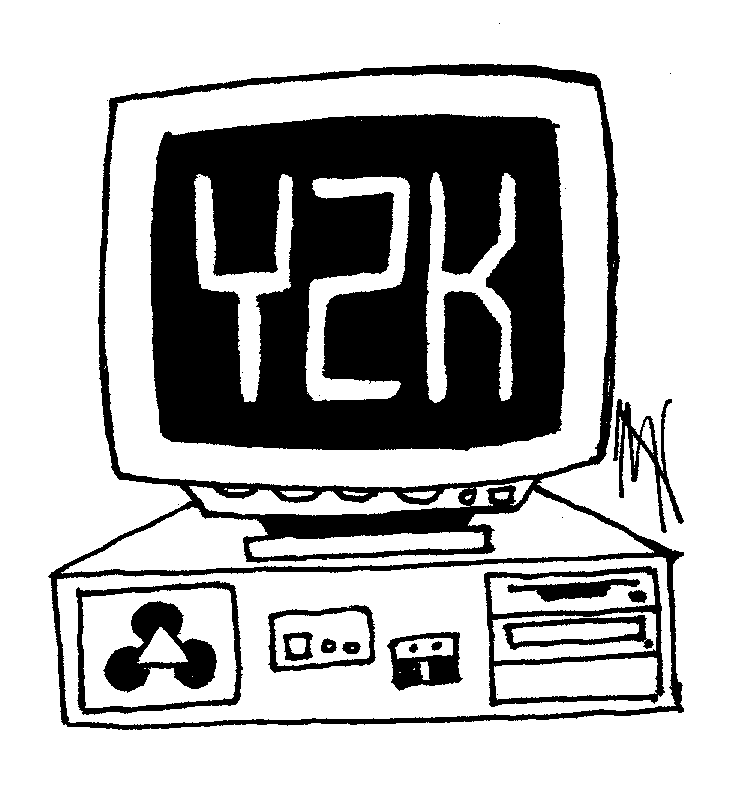 to Y2k – December 28, 1999:-
                     "As we head into the final hours leading up to Y2K.  I want you to know where we stand.  Every customer support representative in the company will be on the job or call this weekend.  As Y2K hits, we can all take pride in the fact that IBMers will be at the ready.  Internally we're battered down externally we are poised to held.  I want to thank all of you for this unprecedented effort".
c) The Tragedy at the World Trade Centre- September 11,2001:-
 "We now have an important institutional role to play in the restoration or the infra structures that have been devastated.
The best thing we can do at this point is to stay focused and remain ready to assist if called on.  Continue to exercise discretion and use your best judgment as you conduct business.
I want to thank you for the concern you've expressed and for the work many of you will do in the days ahead".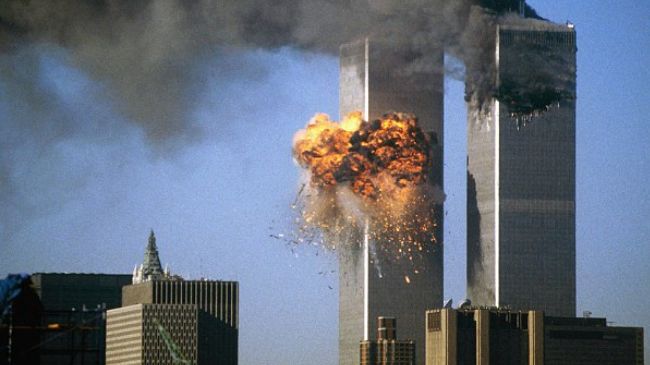 d) Follow up on the Tragedy – September 13, 2001:-
"The most important thing any of us can do is to take care of the job at hand and keep IBM moving forward.
Your concern and self sacrificing spirit make me so proud of our company for each other.  Let us stay focused and stay together."
e) Our Response to the crisis – September 21,2007:-
"Every one of the customers I met asked me to tell you all how much they appreciated your efforts.  One CEO told me, "IBM stands alone in their response to this crisis".
The great strengths of IBM and its people have been borne out again and again.  Ours is a strong and compassionate company and tough situations like this bring out our true character every time.
Long before I came to IBM, I knew this was a company of great integrity and character.  I can see now that. I could not fully appreciate just how deep that ran or how strong and good the people of this company are.  When the need was the greatest you stood tall.  I have never been prouder to call myself your colleague."
f) Corporate titles – July 6, 1994:-
"I have always believed that titles should be attached to positions and not to individual people.
I also believe that rewards should be based on performance in the field.  Team work and Leadership and that all of us – myself included – should be appraised on a regular basis and not tenured because of some earlier recognition.
I want all titles in the company to reflect responsibility and nothing more.  I want all our people to take on new assignments and new opportunities.  Because of challenges, the development potential for their careers and the benefit that the company will derive from their performance.  The future of IBM is its human resources – our performers – and not in appearances and titles.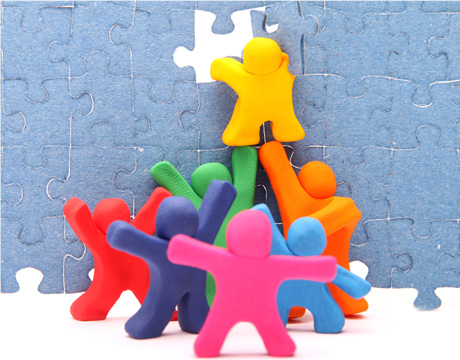 I cannot emphasize enough that in the IBM we are all working so hard to build. What is important is the quality of your work, the spirit of your cooperation and team effort and your ability to contribute to the success and profitability of the
entire enterprise.  People who do good work – wherever they are, whatever they do, whatever their title, – will be valued assets to the corporation, and their achievements will be visible to all".
g) Stock Ownership – August 14,1997
"We, as leaders of the management team, should be over weighted in IBM equity.  Not aiming for the same degree of diversification as an outside investor.
We should be excited about IBM's future and demonstrate it in the best way we can!"
h) Leading IBM – July 10, 1998 ( TO SR. MGT.)
"You are one of the IBMERS.  We are asked to manage people or lead a team.  We have to mobilize all 270000 IBM employees.  I can't do that alone.  Together, we are the leadership of IBM and I need your help to move IBM forward.
First, each of us must take seriously our role as a leader – The responsibility we carry to motivate and inspire the people around us.  This is not a "Nice to Have" competency.
I hope, I can count on you to exercise personal leadership – with imagination and passion for what we do.  For our company, and especially for the people on your team, I can think or nothing more critical to our success".
i) To Management Colleagues – September 28, 1998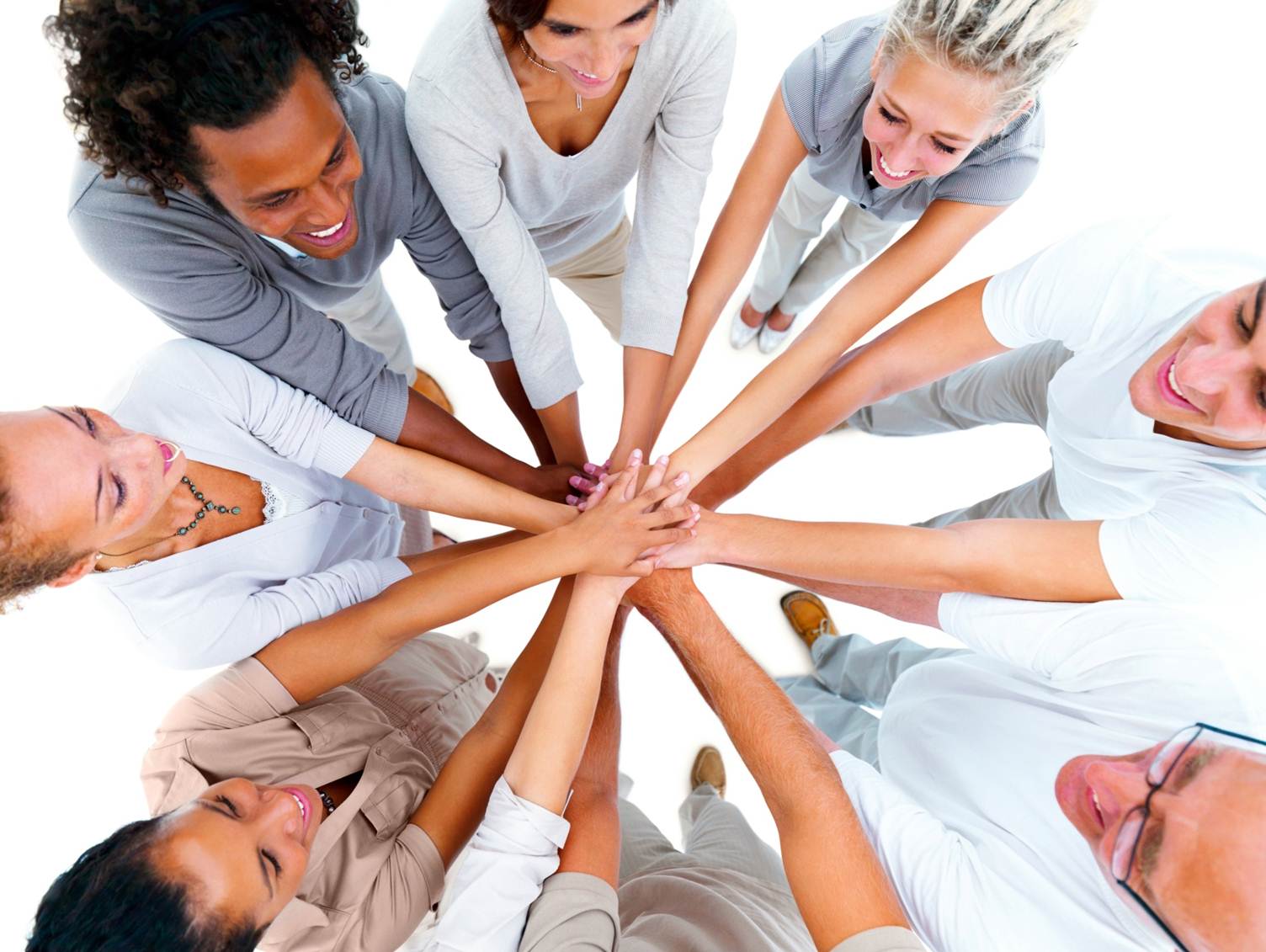 "What we need are leaders with the right attitude.  We should have attitude that says:- " My job is to ensure that all the capability of this company is channeled to the person at the point of contact with the customer.  I am here to help them win business".
You have to say, "You have got the ball this time.  What can I do to help you win?" and you should understand that sometimes the best thing to do is to get out of the way.
I trust I can count on you as a member of IBM's leadership team to exhibit the qualities that turn the breadth of IBM into a competitive strength and to encourage that kind of behavior in your people".
Personal leadership and task – specific team work drive our success.  What will not change is our preoccupation with winning in the field".
j) Making the staff partners in strategy & implementation – March 24, 1994
"Today, as in the recent past – determined, quick, sure-footed implementation – remains our biggest challenge.  I want you to see where we need to get our job now; every one of us is to get us there.
I am increasingly confident, we can do it.  Today I notice in many of you a tighter focus, a growing sense of urgency and a faster pace.
We have an exciting future.  Let us step up the pace and get the job done".
k) Implementing strategy – August 11,1994
"We sat in meeting
s, nodded our heads in agreement, and then went back to doing whatever it was we were doing before.  So we agreed we needed to change, but we didn't change.  We said we needed new strategies, and we created them, but we didn't implement them.
What happened to us three years ago – all our problems was the result of this failure to do what we knew we had to do.
Well, however strong the forces of inertia are – a group of us are going to make the changes we have to make.  We are going to implement our strategies.  We are going to reenergize IBM.
We are going to start wit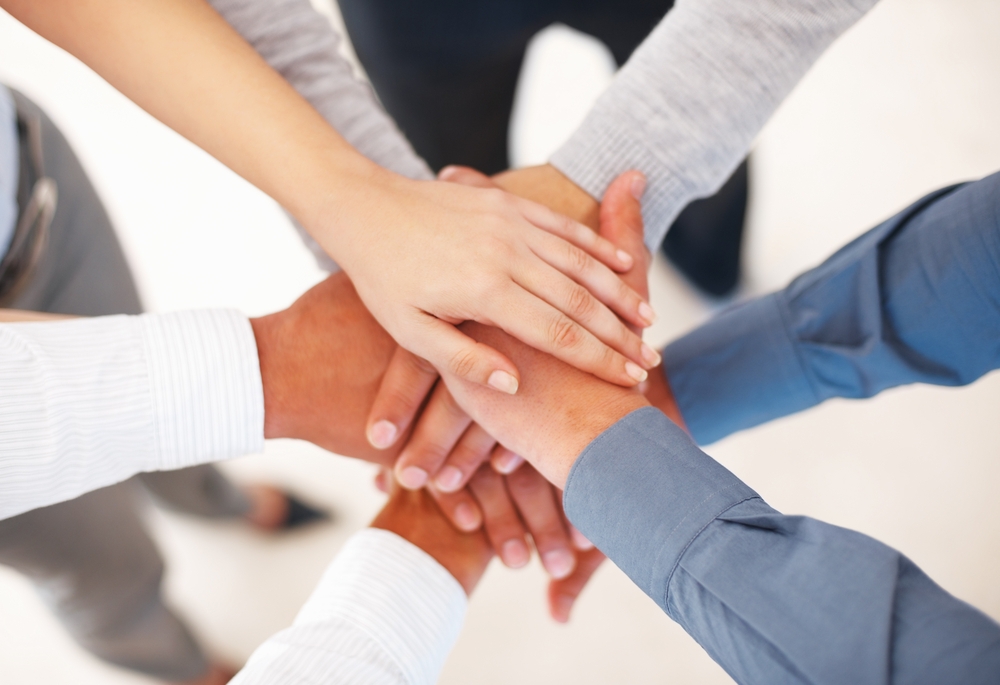 h our attitude.  We need to make three commitments.
~ A commitment to win in the field
~ A commitment to change
~ A commitment to one another
No more focusing on our opponents down the hall.  We are going to focus on our competitors, who have been focused on us for years.
Making these commitments is not an elective process.  This is the price of entry into the new IBM.  We don't have room for push back.  We don't have room for spectators.
For those of you who have played an active role in making constructive change happen, I thank   you and encourage you to intensify your efforts.  You were largely responsible for our success in the first half of the year.
For those of you who haven't yet made the three commitments, the train is pulling out of the station. Time to hop around or be left behind.  I think the journey will be exciting and worthwhile".
l) Third Quarter Results – October 20, 1994
"Today our balance sheet is much stronger. But this is not to say that we have crossed the major hurdles.  We still face big challenges.  Our industry is full of opportunities ready to prey on an area of vulnerability.  We can't declare victory or become overly optimistic.
To those of you who are playing an active role in our transformation – Thank you.  I recognize and appreciate your hard work.
Continue to preserve.  Encourage your colleagues who are sitting on the sideline to join our team.  We have a formidable challenge ahead.  One that requires the full participation of all IBMers.
m) Recognise good work and thank them – March 15, 1994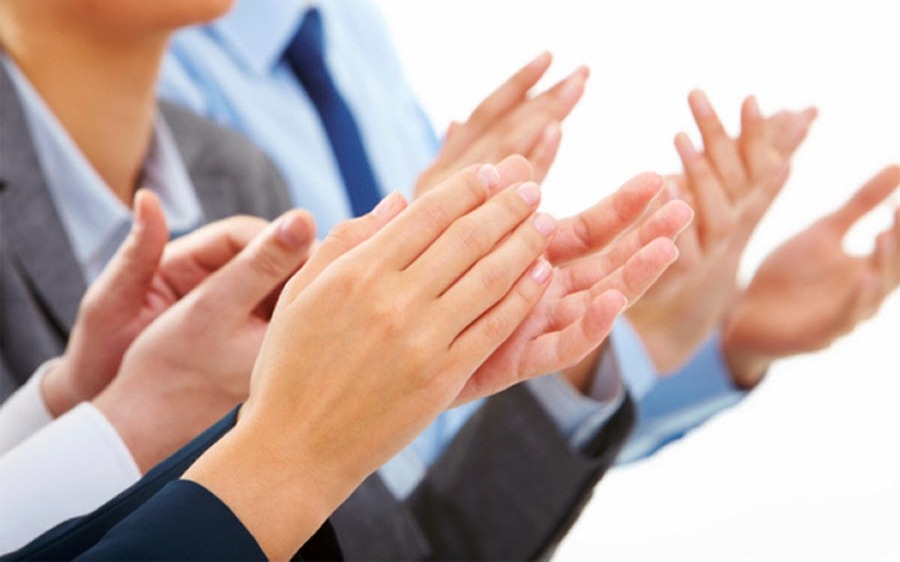 "An appointment as an IBM fellow is the highest honor the company confers upon our scientific and technical employees.  It recognizes sustained levels of distinguished achievement over a career and provides wide latitude to pursue technical projects of the IBM Fellow's choosing.
Dr. Celia Yeack Scranton of the storage systems division was to be named an IBM fellow in July.  She was widely regarded as one of the industry's leaders in magnetic recording.  She was also a true team player known for the ability to lead multi disciplinary teams.
Celia had a terminal illness, so on Saturday morning her manager visited her and told her she was named an IBM fellow.   She died yesterday.
We join her colleagues in her division in mourning her.
n) Competition between deep blue (super computer) and Garry Kasparon – May 12,1997)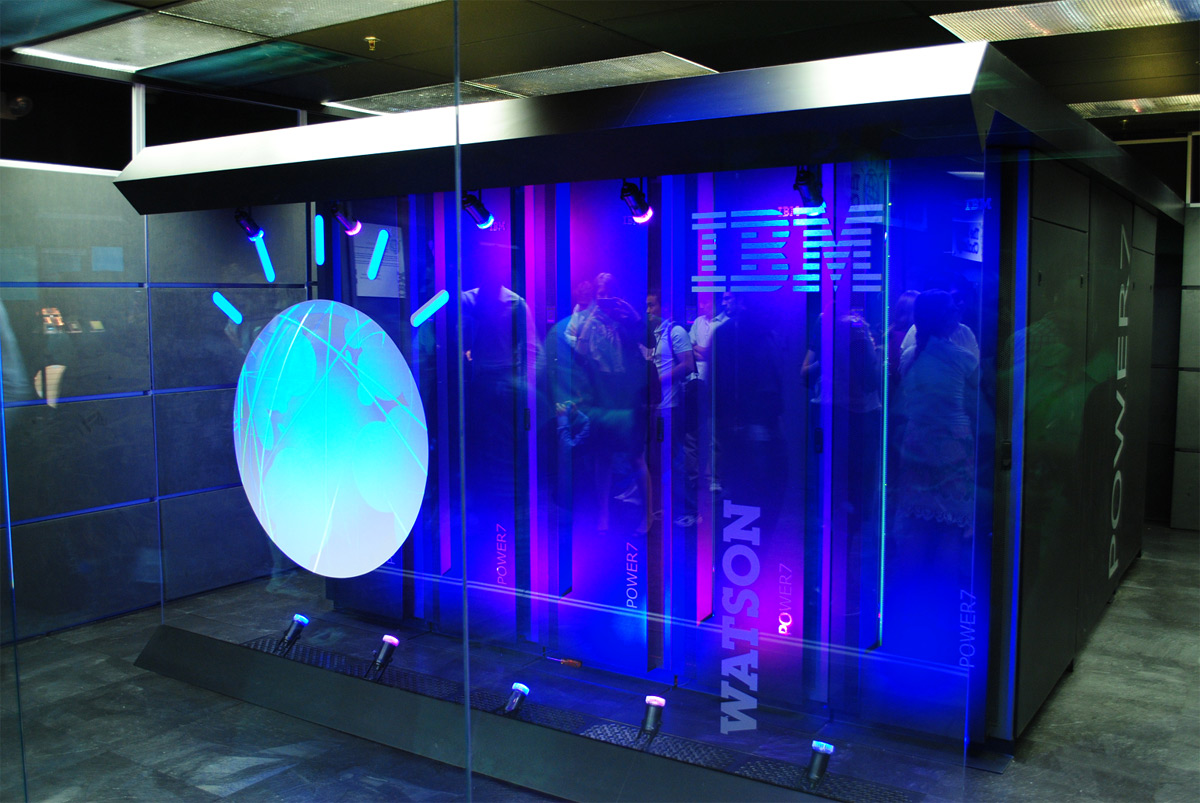 "I know I speak for IBM colleagues everywhere in congratulating the blue team on its outstanding performance.  It was the culmination of years of research and exploration and it will stand as a great example of IBM's technology leadership.
As much as I love to win (and I am glad we did), I don't think the triumph of the match was that deep blue won and Garry Kasparov lost. The achievement was in demonstrating that powerful computers like deep blue can successfully tackle tough problems that required mind bending high – speed analysis.
I also want to thank Kasparov. There are not many people in the world who would have been willing to match their intelligence and with against an opponent like Deep Blue and under intense media scrutiny. Mr. Kasparov never considered this match a side show.  He took it seriously and his sincerity as our partner in this experiment made it the invaluable learning experience it was".
O) Stock milestone – May 13,1997
"Today we reached a major mile stone in the history of our company.  Our stock price hit a record high.  This is obviously good news for our share holders – and, importantly, more than half of all IBM employees are shareholders too.
Records are meant to be broken and milestone to be surpassed.  The next two milestones to be achieved are:
Customer satisfaction
Increase in the total number of IBM employees
In my eyes you stand tall.  You did all this – the milestones passed.  The victories are just ahead and those far down the road.
Thank you.  Take a bow.  You have earned it and of course I can't resist: Let's all get right back to work because we have just begun!"
_____________________
Now I want to ask you.
Have you seen through the tone tenor timbre of Gerstner's emails?
He acknowledges the contributions made in the past.  At the same time he makes his staff aware of the 'Miles to go'.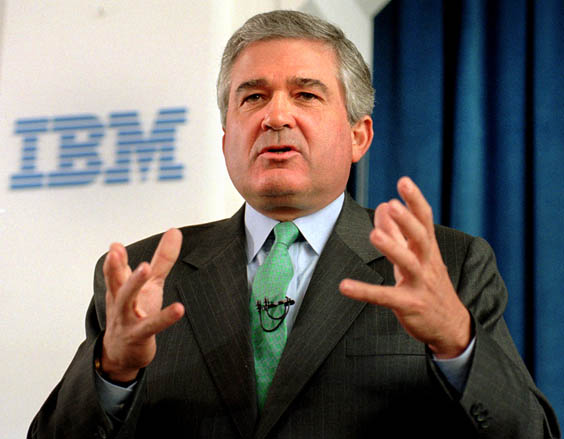 He always says 'You and I' should make this company great.
He paints a bright future, but says it will happen. Because of their strengths he never for once portrays his staff as weak.
He wants them to put the problems behind and focus on rising again like a phoenix.
He thanks them for what they have done and immediately asks for their patience and continued support.
He appreciates their hard work to overcome the problem posed by Y2K.
He empowers them to take decisions and also advises them to use their judgment.
He also advises them to seek the help of the seniors thereby acknowledging the merit of the seniors.
He thanks them in advance for the good work they are going to.  These thanks are to get them committed to better work.
Post September 11, 2011, he says how proud he feels about their concern and self sacrificing spirit and stresses the need to stay together.
He praises the company's traditions in the past and says he feels proud to call himself their colleague He is a part of them and does not stand apart from them.  This identification with the staff is important.
                 He stresses the unimportance of titles and instead says that titles should reflect responsibility.  He emphasizes that rewards should be performance based and not length of employment.
In many Annual Day functions we find:-
"The Management, Principal, Staff and Students of – school invite you" as if each one is a separate entity.
In all schools the author headed, the invitation read:
'KENDRIYA VIDYALAYA, COIMBATORE 
INVITE YOU'
                He stresses the quality of work spirit of cooperation and team effort and ability to contribute to success.
While, he wants the Senior Management to be excited, in the same vein he exhorts them to demonstrate their excitement.  He wants them to motivate and inspire their team.
He wriggles out their unequivocal passion for their work when he says "I hope I can count on you".
He emphasizes the importance of a correct and right attitude.  It is interesting when he tells them "sometimes the best help you can do is not to help them.  Get out of their way"!
His constant refrain is
"We have to win"
He expresses repeatedly in his confidence in their ability to get things done.
He strongly asks them not to have a laid back attitude and while thanking those who have been active, with a touch of humour and seriousness says that those who were passive will find themselves discarded.
He is profuse in acknowledging the great contribution made by a Division Head and mourns her loss.
When he applauds the victory of IBM's super computer Deep Blue's victory over Gary Kasparov, he wholeheartedly thanks him for agreeing to and makes him a Partner in the experiment and not an opponent in a tournament.
When they reached milestones, he says now you stand tall gives all the credit to them.  At once, he asks them to get back to work because their work has just begun.
Patting and Goading at the same time?
Can you become a Louis Gerstner for your school?
You can, if you think you can!
Impossible – Let that word not be in your vocabulary.
I can, I will, I shall – These 3 shall be your battle cry.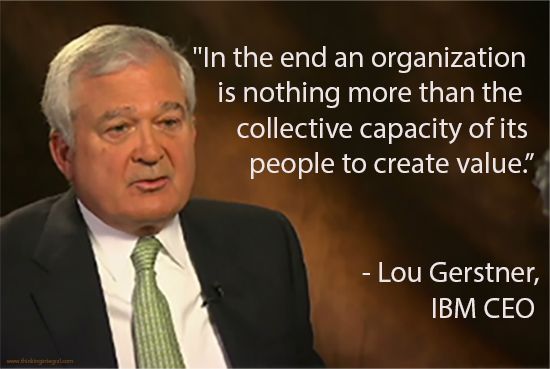 ~~~~~
ONE WHO KNOWS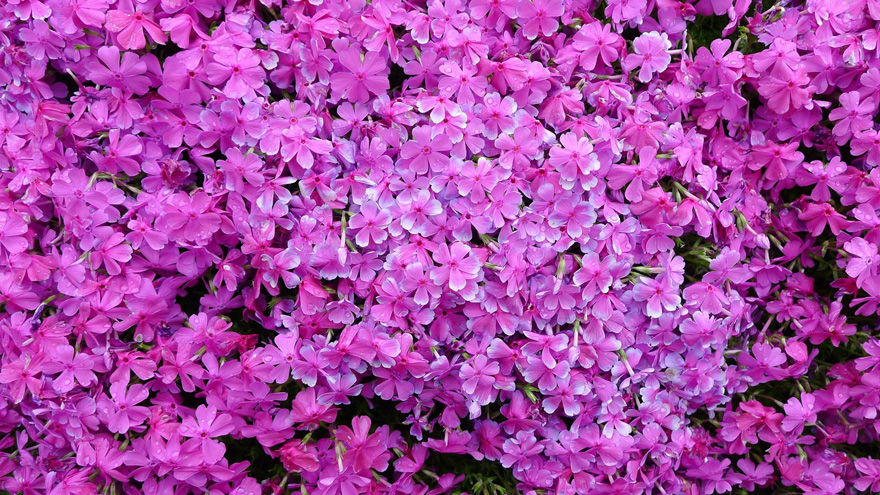 One who knows that to effect change. He must collaborate and not compete.
One who knows to emerge from his ideas time to time to take a reality check and feel the ground beneath your feet
One who knows to decide what is to be done and more than that knows what is not to be done
One who know that to make others understand him, first he must try to understand them
One who knows what he knows not and prepared to accept it
One whose enthusiasm (fire) wells up from his heart. And is not lit up by others
One who knows that doing several things is not equal to doing the right things or doing things right
One whose comfort, candour and convergence define his conversation
One who always builds a bridge over a wall
One who is a publicity agent for the achievements and successes of his staff
One whose skill is not seen, because it is effortless
One who looks at everything / everyone with equipoise
One whose leadership is grounded in ethics and value creation
One who knows to go through tacklers as they are card board and critics no better than bread crumbs
One who knows that he can win if he tries to win and can lose by trying not to lose
One who knows that trust is both verb and noun. And that always the latter follows the former
One who knows that principal ship is not like bowling – get wickets in one over of 6 balls or winning a tennis match with 6-0, 6-0 and 6-0 in 3 sets. But that is life golf where it is a continuous endeavour to perfection
One who knows that he should be exceptional and not an exception
One who knows that he should avoid these 3 qualities
a) Narcissism
b) Machiavellian
c) Remorse lessens
One who knows that he is own friend and his own enemy and that he can rise only raising himself
One who sees people Not as they had been, Not as they are But as they could become
One who knows that he should be available 24 X 7
One who knows that he should, be authentic, show maturity not be casual
One who makes the students and staff fell happy when they think of him
One who knows that the difference between ordinary and extraordinary is just one word extra extraordinary determination
One who knows to bring justice and power together so that whatever is just may be powerful and whatever is powerful may be just
One who knows that he will be define by the way he deals with a calamity
One who knows both to criticise as well as appreciate himself
One who has his own set of standards that will help him weather life's difficult moments
One who knows to harness the power of his thought and use them to transport his dreams into reality
One who knows his differentiator
One who knows the art of balancing opposite elements
~~~~~
EMINENT THINKERS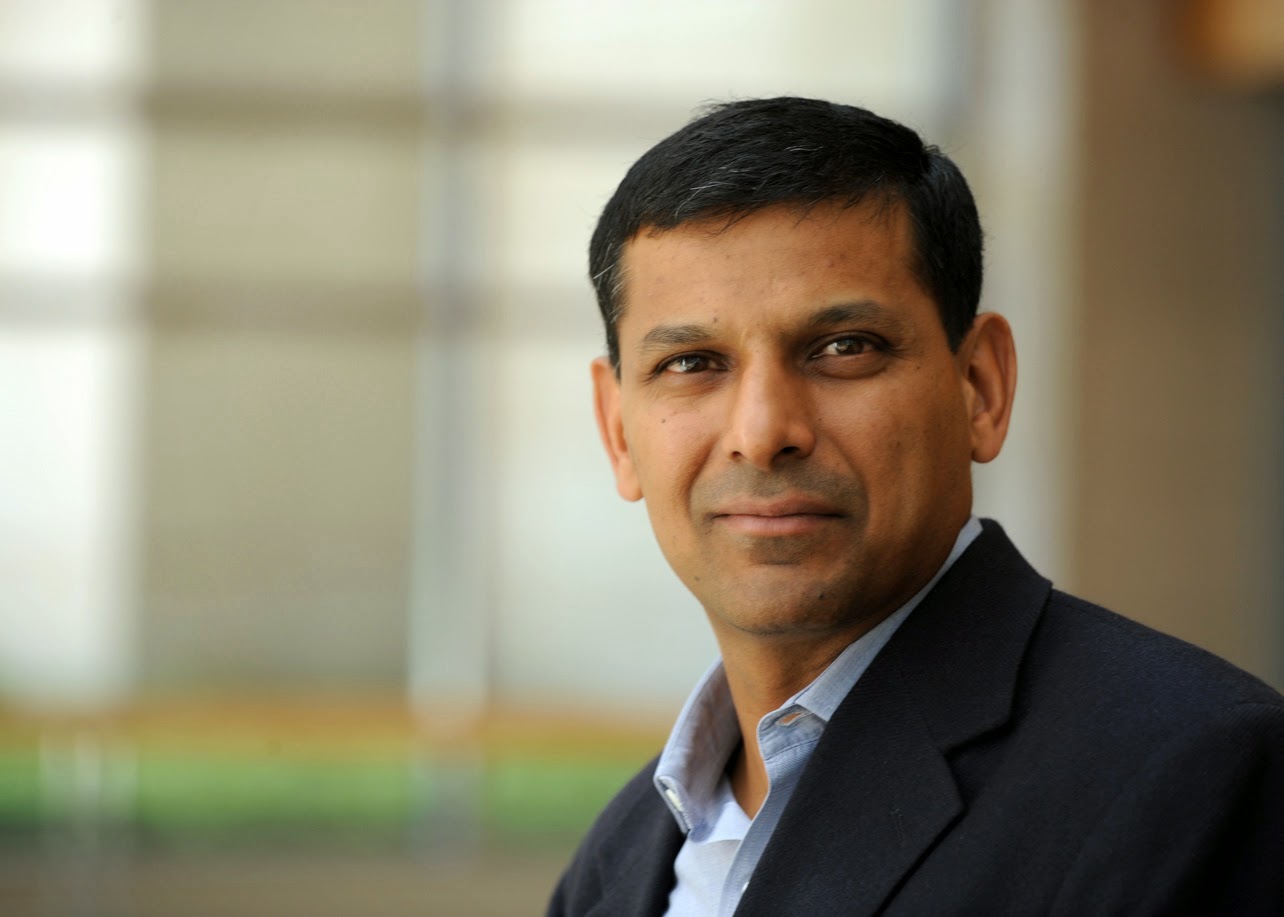 Raghuram Rajan
Robin Mathews
Malcolm Salter
Henry David Thoreau
Alexander solznenitsyn
R.D Tata
Thomas Jefferson
David Korten
Raghuram Rajan
Lingh Zingales
Adam Smith
William ford Jr
Anita Roddick
Ralph Waldo Emerson
Dutrich Onhoeffer
Eleanor Roosevelt
Martin Luther King
Bill Gates – Microsoft
Larry Ellis – Oracle
Nani Palki
Chester Bowles
~~~~~
The universe is a great university. – Sri Sathya Sai Baba
(Place your comment/view about the article above.)