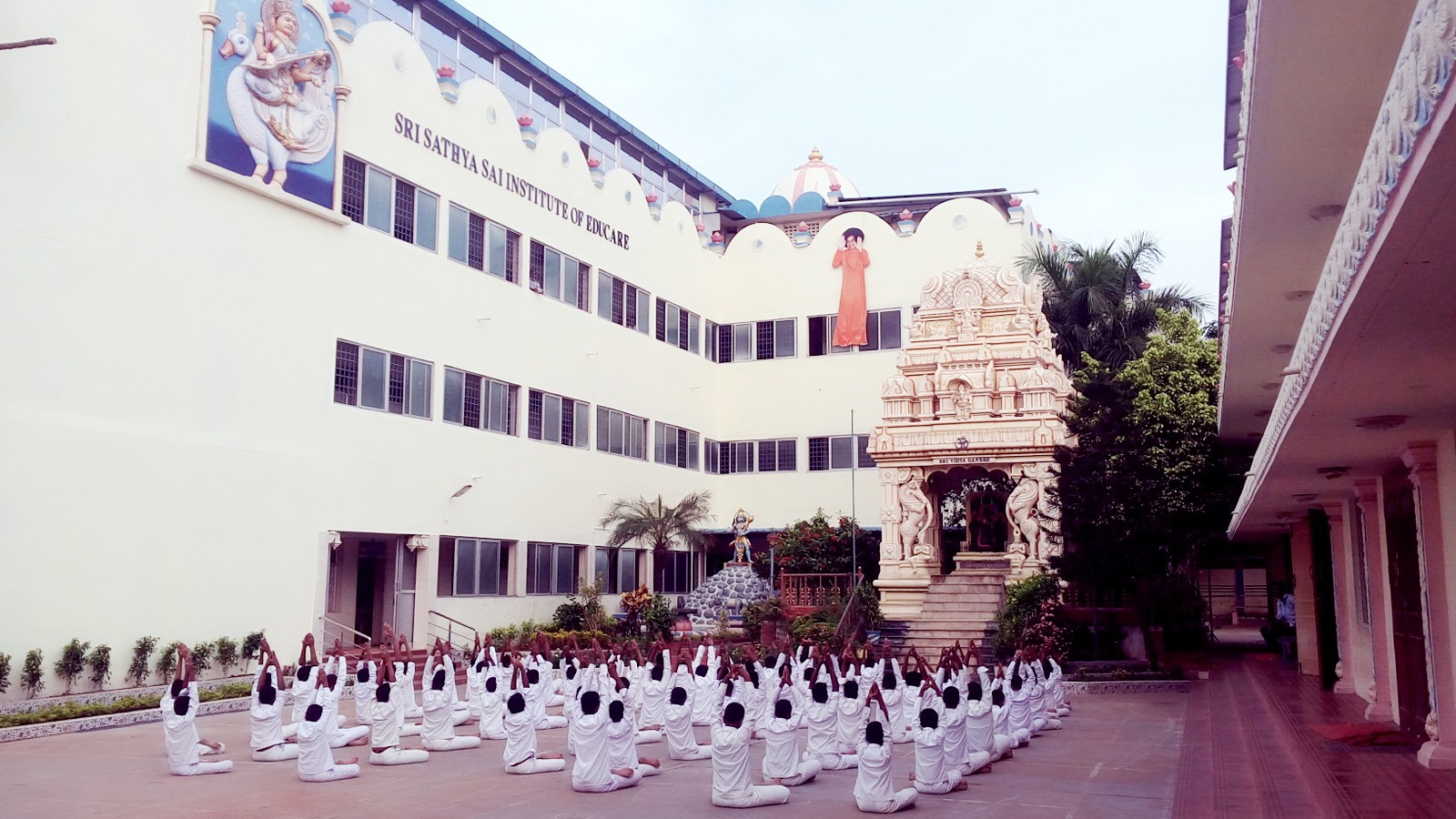 The school provides residential hostel to promote the integral development of body, mind and spirit. The hostel life encourages several desirable traits in the children like sharing, caring and adjusting to community living and provides more time and scope for moulding the personality to achieve the highest standards of excellence aimed by the value based Sai system of integral education.
Admission to the hostel is presently open only for boys seeking admission to V to IX and XI classes.
Dormitory type of accommodation is provided with the most hygienic and nutritious food.
Admission to hostel is on probationary basis for a period of two months and shall be confirmed only if the student satisfies the disciplinary norms expected by the management.
Starting from the morning prayer, several integral programs are organized for the students of the hostel. Participation in all the integral activities of the hostel is compulsory.
Continuous free medical care shall be provided by the hostel with the help of dedicated experts in the field.
The students can immensely benefit from several vocational courses and training offered in the hostel.
For the entertainment of the students, outdoor and indoor games, value-based movie shows and field trips will be arranged by the hostel. Regularity, punctuality, orderliness, sense of adjustment, co-operation, sharing and caring, zeal for service and clean habits shall be promoted by the hostel and the students are expected to rise up to satisfy the greatest expectations of the system. Any disciplinary violation will be viewed with utmost seriousness.
There will be brief holidays during Deepavali and Pongal festival and annual holidays for about fifty days at the end of academic year. Students will be permitted to go to their home during these holidays.
All the needs of the students are met by the hostel. No student staying in the hostel is allowed to go out of the school campus for any reason. For genuine reasons, prior permission of the authorities must be obtained.
Parents/ Guardian may visit their children only on first and third Sundays. However, they may contact their children over phone during specified hours.
Parents / Guardian should constantly keep in touch with the management to know the progress of their children in academics and hostel life. The utmost co-operation of the parents with the management in this regard is solicited.
Admission to hostel is based on the policies decided by the management from time to time.
With the divine grace of Bhagawan Baba, the Hostel will be a home away from home, which is full of love and care.
OUR DAILY SCHEDULE
| | |
| --- | --- |
| SUPRABHATHAM | 5.30 AM |
| SURYA NAMASKAR, YOGASANAS, JOGGING & EXERCISES | 6.00 AM |
| STUDY HOUR | 7.00 AM |
| BREAKFAST | 8.00 AM |
| SCHOOL HOURS | 8.30 AM TO 3.45 PM |
| LUNCH BREAK | 12.15 PM TO 12.55 PM |
| SNACKS & MILK | 4.00 PM |
| VOCATIONAL COURSE/GAMES | 4.15 PM TO 5.15 PM |
| BHAJANS | 5.30 PM TO 6.00 PM |
| SUPERVISORY STUDY HOURS | 6.15 PM TO 8.00 PM |
| DINNER | 8.00 PM TO 8.40 PM |
| NIGHT PRAYER | 8.40 PM TO 9.00 PM |
| LIGHTS OFF | 9.15 PM |