CHAPTER XXXII – ASSUME DIFFERENT ROLES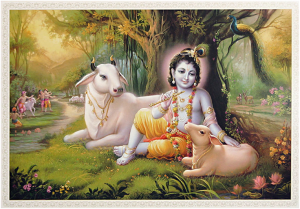 In DivyaPrabandam, LordKrishna is described as'AyanaMaayan'. The Lord has come down from HIS high level –  From heaven and taken the form of Shepherd and takes care of the cows. When Brahma hid all the calves and other shepherd boys, Lord Krishna cloned himself into all of them and for one year lived as their sons in various homes. When Krishna was taking care of the cows in the hot sun, it seems Garuda flew very low spreading his huge wings and providing shade to him.
Like the Lord, can you take different roles and help your staff? Therein  lies your MQ. Take a teacher to hospital, attend a peon's marriage, helping a peon for his daughter's marriage, cleaning a Principal's plate in a scout camp (as he has to go to receive his Chairman), doing night watch duty along with staff and student in the Scout and Guide camps, digging a long jump pit, polishing furniture along with staff and students,  arranging alternative shelter for a peon's family who has had been burnt down, talking to housewives and arranging breakfast and tea for two girls students working in their homes, arranging special treatment for teachers husband in the government hospital, arranging for the medical treatment of retired teachers with the help of sales organisations, rehabilitating waiver village boys and service in medical camps.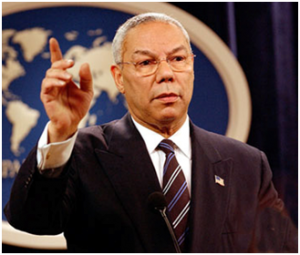 You should go from 'value' to 'value added' – create extra value to your work and that of your boss and people working with you. You should be one step ahead like general Colin Powell, former US Secretary of State. His Press advisor once said, "Now, he no longer comes asking for information. He already has the information with the help of technology. He comes asking for action".
His junior media advisor was doing some shopping. She got a call from Powell. Her friend was surprised that she was talking to the Secretary of state. Today you can not only do your job, but also your assistant's job thanks to the cell phone.
As Friedman put it: – "You are never out.You are always in.You are always on."
Your MQ depends much on how you are, who you are, when you are in  action before  a huge gathering. Suppose you are speaking in a big conference. Just think of how Roger Federer, RafalNadal and Sachin playing before a huge crowd of thousands. They concentrate on their action.
Read "The Tipping Point" by Michael Gladwell which will help you to understand the power and joy of new ideas, the intellectual adventure story everyday, your effort to prepare a roadmap for change and the realisation that one person with imagination can change his environment applying a well- placed lever.
Be firm and fair with all. It is possible to be fair without being harsh, to be strict without being severe, to be softly firm and firmly soft. This is the MQ which the author gained and learnt from his association with Sri.T.S.Avinashilingam, his mentor and Dr.K.Kulanthaivelu, his Principal. Working with these two great educationists, the author learnt the meaning of a poem written by the great poet Abdul Rahim Khan-I-Khana,
"JahanKahmAaveSui  KahaKareTarwari"
Meaning – "The sword even if bigger can't do the work of a needle. That is everyone is important in the school.- the peon who cleans the toilet as well as the Principal who runs the school".
~~~~~
CHAPTER XXXIII – BE MAGNANIMOUS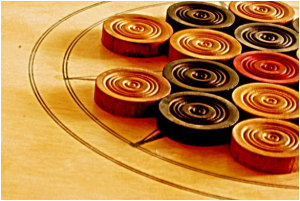 In 1974, at Coimbatore the author (a carrom enthusiast) witnessed a match between two school teams spread over 5 Sundays with the gap of months after the fourth encounter. One boy of school A was nicely pocketing a coin every time his striker went into action. School B team was dejected at the end of the fourth round. But, their Headmaster got an expert from a local social club to train his two boys for 1 month. They got trained so well that on the last day the leader could defeat even the expert who trained them.
On the meantime this leader learned that the fifth Sunday happened to be the birthday of the school A team's leader. So on that fifth Sunday he played in such a way that, while revealing mettle, towards the end he played to loose and made the leader of School A win and immediately told him " this is my present for your birthday"
When the trainer and HM asked him why he played to loose when he has trained himself so well, he replied, "I know I can defeat him, I made him understand and I saw the agony in his face thinking of the impending defeat, that too on his birthday. My heart told me, "Don't make him go home crestfallen on this day important to him. That is why I said this is "my present for your birthday. Even though he has defeated me four times earlier I thought that I could show him that I can be magnanimous in defeat also."
The author learnt a great lesson in Management that day from that young mature lad. He used it later when one teacher sent an anonymous petition to the Assistant Commissioner against him. He waited patiently and one day on his rounds he found this teacher teaching Geometry to class 8 imaginatively with the help of a few big rubber bands and a wooden board with nails and also made each child use a smaller board with nails and  smaller rubber bands. They learnt various angles nicely through this method.
The author called him to his room and told him "I saw your class during my round, very interesting, please give me a write up on that, I will send it to KVS." After 3 months when the author got a copy of "Sangam" KVS house magazine, where his article has been published, he called the staff gave him the copy and said, "This is just an expression of my gratitude to you"
Yes, we can be magnanimous!
"If your intentions are genuine, then things will fall in place." -C.K.Chandrasekhar, CEO of Fortis Health Pvt. Ltd.
~~~~~
CHAPTER XXXIV – RESPECT CONSTITUTED AUTHORITY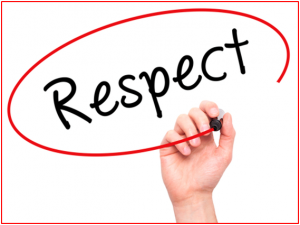 The author has seen some interesting situations that have tested the MQ of Principals and Officers. There were two teachers in the same school – one a PGT and anothera TGT.In course of time the TGT qualified himself further, became a PGT, wrote the examination and got selected as Education Officer. After serving in different regions he came to a region where that PGT was serving as Principal. Now the drama started. The Principal remembered the Education Officer only as a TGT. He could not forget the past and started telling people "I know him as a TGT. He has never been a Principal. Now, he advises me as to how I should do my work"
The Education Officer forgot to remember the past.He thought only of the present and felt aggrieved that he was not respected by the Principal.
The author's father gave him a valuable advice on two occasions in his life,
a) In 1946 when he walked 16 miles a day to his college his father said:-"Remember your past, 50 years back your grandfather was stinkingly rich. We had an elephant, hundred bulls and 50 cows in our house. So much of land we were owning.
So don't worry, you have to work now. You will get back to that position.   The present should not make you feel inferior"
b) Again in 1962 when the author became Deputy Director (Training) South Zone, in the Ministry of Community Development Government of India. His advice again was:-
"Remember your past. Don't forget you walked once 16 miles a day to go to college. This present position should not boost your ego and make you look down upon people.
Never consider yourself superior to anyone
Never consider yourself interior to anyone
Be yourself in the full knowledge of who you are and what you are."
Devdutt Patn
aik, Chief Belief Officer of the Future Group helps you with an interesting story. When Bharata was made Chakravarti  (Emperor) he demanded all his brothers bow to him. All refused to bow and renounced. One, Bahubali, refused to bow or renounce. They both entered in to a duel and when Bahubali had to raise his hand to strik
e Bharata on his head, that idea of hitting his brother was not liked by Bahubali. So he plucked his hair with his raised hand and became a monk.According to monastic rules, a junior monk has to bow down to the senior. Bahubali became junior to his younger brother monk who joined the order earlier. The elder brother had to bow down to the younger brother.
The PGT Principal didn't like bowing to the TGT Education Officer!
Two Principals – the elder one became Education Officer and the younger one became his Assistant Commissioner.This he could not digest. The Education Officer always addressed the Assistant  Commissioner by his name. The author advised him, "That is Government service. You have to understand and  adjust. You have to respect constituted authority. Don't call him by his name. You are not setting a good example to others".
~~~~~
CHAPTER XXXV – MAKE YOUR SCHOOL A BRAND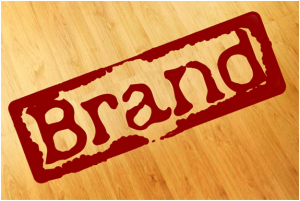 Your MQ will be measured at present by how you use technology. To make things simpler, especially learning by children Technology saves time and money. That is the reason for all to use it, not because it is an extraordinary technology.
Have a look at people around you. Your servant maid at home says, "I don't trust any shampoo other than Sunsilk. I only buy quality products whose ads say it will make me look better".
A college student says, "I will choose only a branded shirt – Louis Vitteon if I feel it offers me better quality".
They want a branded product that will boost their image
Your M.Q. should make your school a branded product offering better quality teaching and learning experience that will create the image that the parents wish their children to acquire.
Prof. Nirmalya Kumar of London Business School offers you a 3V model to improve your MQ quality. Find out :-
a) Who is your valued customer (Student / Parent)
b) What is the value proposition you offer (service)
c) How will you deliver it through the value network?
Quality – Value should  be your concern. Only taking responsibility for total quality – not quality control at the end of the line – at the class XII stage is not correct. It should be the business of every staff right from class I.
It is every Teacher's business right from class 1 to make every student learn and understand everything of every lesson in every subject in every class. Then quality will be there for everyone to see. Individual quality will breed process and product quality.
VineetNayar, CEO of HCL Technology has a question to ask. One may go to the temple spending petrol and feel happy about it, but on Monday to come to office the institution gives you a car with petrol, but still you have the hangover and feel, oh! I have to go to work! because you are not involved, engaged
Your M.Q. depends on making staff – each one feel – "O! How nice I am going to school for another wonderful week with my Principal !"
One parent of a  KV came to the author and said, " I was thinking whether I should put my daughter in your school or the other  KV  but your Head Clerk  made me feel very comfortable, told us about the school's activities, unique features like honouring a parent every Friday by inviting him or her to address the Assembly, your background and the grand manner the school organised the triple sports meet. He is not just a Head Clerk but is passionate about working in this school with you. So I decided to put my daughter here"
The parents saw the school through the eyes of the Head Clerk !
The day he joined duty on transfer from Andaman, the author introduced and welcomed him in the Assembly and made the School Pupil Leader welcome him with a rose and then took him to his chamber and entertained him to a high Tea along with the other office staff. The Head Clerk told him " Sir, in no other school have I been welcomed and treated so warmly". His first day experience forged his affinity with the school!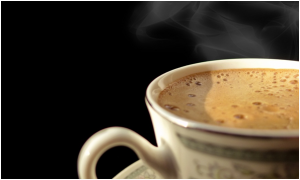 ~~~~~